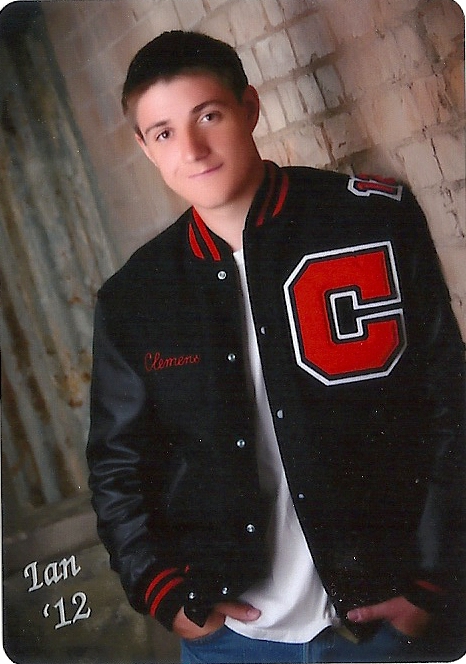 Our son Ian wanted to be a Wolverine since he was 3 years old. So, when the acceptance letter from the University of Michigan College of Engineering came, along with the other acceptance letters, we knew his decision had already been made.
Ian had a passion for learning and enjoying life. He loved spending time with his family, and his wonderful friends. He excelled academically and surrounded himself with like minded friends who over the years have become part of our family.
He wanted to become an engineer so he could develop something that would vastly improve the quality of people's lives all over the world. His challenge, and mission was to figure out what that something would be.
As he moved into his dorm in August of 2012, he was so excited to begin working on figuring out that "something" and participating in all that the University had to offer. Three and half weeks after Ian started classes at the University, he was diagnosed with a rare form of brain cancer. Upon being diagnosed the doctors suggested that Ian withdraw from school with a plan to return in the second semester. Hearing this, and making this decision was harder for Ian than hearing he had brain cancer. He wanted to be able to do it all, but realized he needed to focus on one thing at a time in order to have the strength to fight. He remained driven, positive, and so brave through all the unpleasantries he had to experience. Ian was always looking for a shred of humor in order to lighten the mood. We never saw a moment of "giving up". Fighting every step of the way, and always making sure everyone close to him were handling things okay.
In typical Ian fashion, he had a plan: Now that he knew what it was, lets get it taken care of and let me get back to school. Unfortunately that was not to be and 32 days after being diagnosed we lost him at the age of 17.
Our world, and the world of his dear friends forever changed that day. We do not understand why this had to happen and we believe we never will.
Ian's final act of charity was providing the gift of sight to two people. In life, and in death, he did change the world. As a family we decided to do more to continue his vision.
Initially we started The Ian Clemens Memorial Scholarship at the University of Michigan – College of Engineering. This allowed Ian to forever remain a Wolverine. We currently have 3 students receiving this scholarship and will be adding another in the fall of 2017. Once this scholarship was in place we knew more could be done to continue Ian's mission. This is why we started The Ian Clemens Foundation. We have expanded our mission and will now be able to vastly improve the lives of many others. Through this foundation Ian's memory lives on and allows us to get up everyday and focus on the positive.
There is a saying that reads "To the world you may be one person, but to one person you may be the world". We hope that through our foundation we may be the world to those we help in Ian's memory.